Our Tax ID# is: 94-1196195
Donate by mail
Please make checks payable to 'Guide Dogs for the Blind 02-09' and mail to:
Guide Dogs for the Blind – Los Angeles Southwest Puppy Raisers
Attn. Pat Whitehead, Leader
P. O. Box 1898, Manhattan Beach, CA 90267
Donate when you shop at Amazon
If you have an Amazon account you can, at no extra cost to yourself, donate a small percentage to GDB each time you shop.
Instead of searching for your purchase using amazon.com use smile.amazon.com instead.
The first time you will need to select Guide Dogs for the Blind as your charity.  After that you will donate 0.5% of the purchase price of eligible items provided you start at smile.amazon.com.
L.A. Southwest is a local volunteer guide dog puppy raising group affiliated with Guide Dogs for the Blind, a non-profit 501(c)(3) corporation. Our Raisers are responsible for the complete care, training and socialization of their guide dog puppies in training for approximately 14-16 months.
Thanks to the foresight and generosity of our donors and raisers, L.A. Southwest is not only able to provide the fundamental skills required for guide dog candidates but is also able to donate to special programs within the GDB parent organization. All services provided by Guide Dogs for the Blind are totally free of charge to the recipient. GDB receives NO government funding.
You can help L.A. Southwest Puppy Raisers to:
provide designated gifts to special canine welfare programs within the GDB organization
maintain a members-only on-loan inventory of puppy raising equipment
assist with kennel costs for females in season
provide guide dog graduation scholarships
provide presentations to youth and adults about blindness and related issues
provide educational materials for presentations and events
Thanks to our Supporters for Helping
We have so many people to thank for supporting our efforts in raising Guide Dog puppies.  Those shown on this page have dedicated a significant amount of time, services and/or financial assistance to us.  We are very grateful for their kindness.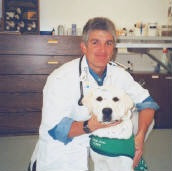 Hermosa Animal Hospital
560 Pacific Coast Highway
Hermosa Beach, CA 90254
310-376-8819
Dr. Stephen A. Liebl, D.V.M.