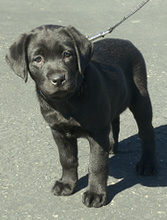 Crescent was born on August 19, 2018 to Yellow Male Labrador Retriever Jolt [Front][Side] and Black Female Labrador Retriever Irene [Front][Side]. She is being raised by Pat. She was a Right Shoulder Shave. The litter of TBD puppies included TBD.
Litter videos: TBD.
Litter photos: Jolt x Irene 8.19.18.
Crescent is from the Latin crescere meaning 'to grow', as in crescendo. The commonly used term 'crescent moon' originally referred only to the waxing crescent moon, not the waning one of the same shape.