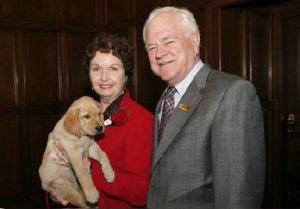 On December 12, 2007 Guide Dogs for the Blind held the 31st annual Festive Holiday Luncheon at The Westin St. Francis Hotel in San Francisco, CA, featuring a gourmet luncheon, guest speaker, and of course those cute puppies!
Proceeds from the luncheon help socialize and train puppies which eventually become Guide Dogs for the 322 blind and visually impaired students we graduate each year.
Pat and Ed attended this year's luncheon and are shown here with a 'mystery' pup.